Has anyone heard of Thompson Learning? They claim to have exam practice tests and even offer courses, but they seem not to know what they are talking about. In their 25 question test, 4 of the questions it seems have errors. Wondering how people like this get to teach.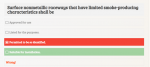 388.120 says exactly that they shall be permitted to be so identified.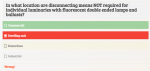 410.130G says for other than dwelling units, and then has an exception not requiring it for hazardous classified locations.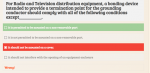 Possibly just bad wording of the question. The device is not allowed to be mounted on a cover. It is also not permitted to be mounted on a non-removeable part. However, if the question was "select which one is false". Then #1 and #2 would need to be selected. So being that the question was worded the way it was, selecting #3 makes most sense.
Never heard of a 3 circuit rule. 90.8B says varyingly restricted.